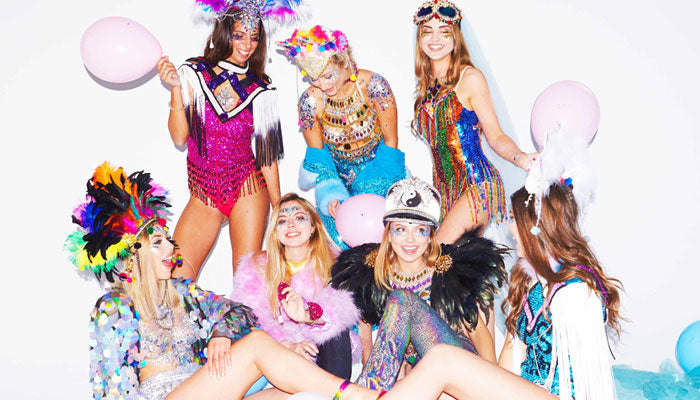 How To: Create Your Own Glitter Bar
If you have been to any event that glitter bars have been a part of, you'll have seen the enormous queues of people ready to get covered from head to toe in glitter and jewels. Whether you go all out with chest pieces and glittered hair or just like the simple face jewels, it seems everyone just loves to shine. We all suddenly turn into magpies and just can't stray away from it. So why not create your own? They're perfect for parties; hen do's; christenings, literally any celebration you can think of. If it's your nan's 80th birthday and you want a glitter bar, then you do it hun!
Creating a glitter bar is super easy to do, but make sure you clear it with your venue first, particularly if its carpeted – henry the hoover would have a real job on his hands trying to clear up after.
Now, every glitter bar has must have products, you will need glitter – of course. Make sure you have plenty of different colours and order more than you think, the last thing you want is to run out.
Have a look at different types of glitter too, some people might want chunky and others a simple sparkle, we recommend our Artist Glitter kit, its perfect for big events, packed with 8 of our best-selling glitter in 200ml pots, glue, setting spray and a glitter brush. WOW.
For smaller events, our Hen Do Bundle could be better suited, with our top 10 must have glitters in smaller pots, both bundles are perfect for your glitter bar, whatever the occasion. Face and body jewels are another necessity for the ultimate festival vibe.
Think about your guests and what they would like, no doubt Instagram will be flooded with all your pics so you've got to make sure everyone looks 10/10.
Next up is face adhesive. When using glitter, you want it to last as long as possible, or what would be the point right? So, that's where glitter glue comes to the rescue. This might seem scary, and we don't suggest grabbing a prit-stick and rubbing it on your face because, well who would want to? Our glitter glues are completely safe, 100% vegan and cruelty free. And, what makes them even better is they peel off! Simply apply a layer of the gel onto the skin using one of our glitter brushes, then add your chosen glitter on top and wait for it to dry. EASY!
To ensure that your glitter stays in place all day, make sure to use our setting spray! Your glitter bar is nearly complete, grab the setting spray and you're all party proof.
Finally ... don't forget mirrors so everyone can see how they've transformed and you're not left relying on front cam.
For added extras you could even include hair braiding to give it that ultimate festival vibe, Dawn and Steve's wedding or Coachella?
If all of this sounds too much ... and you would rather the Shrine team came to give you a hand we are always available. Whatever event you are hosting we are on hand, simply email events@thegypsyshrine.com and tell us what you want!