Article: Festival Hair - Top 5 Tips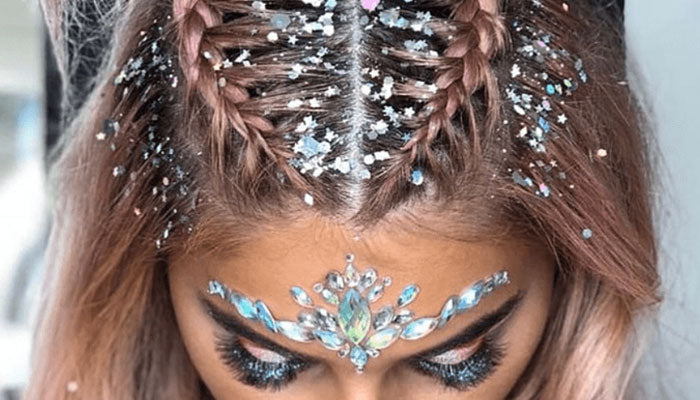 Festival Hair - Top 5 Tips
Festival Hair Inspo
Whether you've just arrived or you've gone 2 days of the festival without washing your hair, braids, buns and glitter partings are your saviour to keep your hair looking fresh, when in reality.. it's anything but! 

1) French Braids
If you want a hairdo that's going to last from the day you arrive to the day you're crawling from the campsite back to your car, then French braids are perfect! You won't have to think about your hair from day to day, and they'll be no worries of your hair going frizzy in the rain. Experiment with coloured wool in your braids to really transform them, or try our coloured hair extensions. 
 2) Glitter Parting
For those of you who thought you'd be able to last the whole festival without washing your hair and its now day 2 and your hair looks like you could fry chips on it, then glitter is your best option. Hide away all that grease under some sparkles and you'll look brand new! 
3) Space Buns
Super easy to do, but super effective. Space buns scream festival hair and although they look cute, they are also practical! No matter the weather, space buns will keep your hair off your face whilst looking like you've made an effort. With love a half up half down look with space buns, or if you're a few days in, tie your whole head of hair up into two little buns and just add Gypsy Shrine's hair glitter!
4) Accessorise, Accessorise, Accessorise
Don't forget about hair accessories, we're talking clips, rings, extensions, the whole lot! They can add an edgy vibe to a basic hairdo and upgrade any outfit! Have you checked out our hair extensions and clips? Make sure to keep up-to-date with our Accessories page, we're releasing new products all the time!

5) Find The Shrine!
If you happen to be at one of the many festivals we're based at this year (to find out where we are check out our Festival Calendar) then come see us and we'll transform your hair into the festival hair you deserve, with no frizz or grease in sight.

Need More Inspiration?
Wanting to try our signature unicorn braids look? Make sure to check out our tutorial! Watch our glitter braid tutorial on how you can create glitter roots that will keep you shining all day and night!