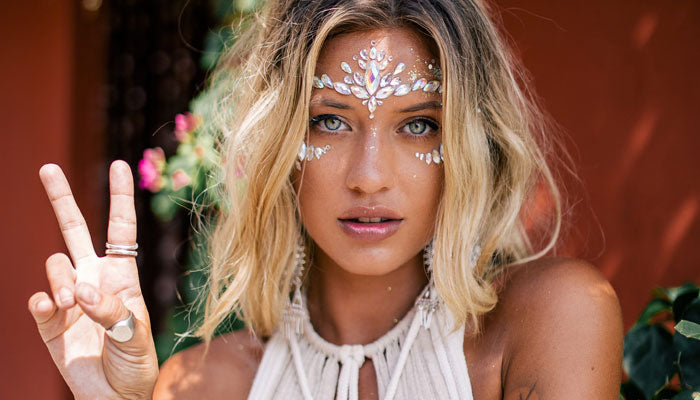 Festival Looks - Top 10 Festival Influencers
The Ultimate Festival Looks Influencer List
When it comes to festival prep and planning it is hard not to get consumed within the excitement of the crazy colours, glitter and glam when considering what to wear. Usually with festival attire, the vibe tends to be anything goes and the crazier the better; as fun as this may sound, with so many options it can be challenging to know where to start! We've got you covered. Below we have listed our top ten influencer's for festival outfits in order to inspire your crazy and creative festival looks. You're welcome!
1) INSTAGRAM - TTIGERLILLY
Tiger Lilly is the founder of shop easy tiger - a festival clothing brand, which is evident by her crazy and creative colourful outfits. She loves to experiment with colourful hair, glitter and vibrant outfits which is why she is one of our fave festival fashionistas! Have you checked out our collaboration with Tiger? If not, where have you been??
2) INSTAGRAM - THEGLITTERYGOOSE
Emily Owen adores some baby pink and bold neon green vibes. Her outfits are vibrant and are especially inspirational for festivals in the hot weather. Check her out!
3) INSTAGRAM - ABBEY_SUXCEED
Abbey's outfits usually involve strong neon's, black and yellow colours creating edgy festival looks. She is constantly switching up her hair to a different colourful shade which we are a big fan of!
4) INSTAGRAM - LAURENKIRKHENRY
Lauren definitely loves creating looks dripping in neon green which is super on trend for this festival season. Her style is unique and fierce with the bold and crazy colours she loves to have fun with. Plus she's a Gypsy Shrine ambassador, what's not to love!
5) INSTAGRAM - MIMI_ALMIGHTY
Mimi is very inspirational for abroad festival fashion. She is consistently dressing in glittery two pieces with her style ranging from glitter glam to edgy neon. Her distinctive style is bound to give you some crazy outfit ideas!
6) INSTAGRAM - MIKA FRANCIS
Mika's style is super contemporary with a more relaxed and cool approach to festival fashion. She stem's away from the glam festival vibes and instead her style features tom-boy qualities mixed with clueless feels. We're a big fan of her unique style and looks!
7) INSTAGRAM - LULUTRIXABELLE
Lulu ventures into a rainbow colour palette frequently and enjoys experimenting with cool prints and patterns with her outfits. If you're looking for some vibrant and jazzy inspiration, then she is your gal!
8) INSTAGRAM - GINIMISSELBROOK
How could we do a festival fashion inspo post without mentioning OG Gypsy Shrine ambassador Gini? Gini's festival style is super individual with a mix of bohemian qualities as well as being contemporary. She loves to have fun with layering jewellery and clothing. Plus she owns her own brand Live Wired, our go-to for edgy and instagrammable festi outfits!
9) INSTAGRAM - SKYEPETRIE
Our other OG brand ambassador Skye is another MUST follow for festival fashion! Skye achieves gorgeous festival looks consistently and will no doubt give you some inspiration. Her style ranges from being bold in black, glam in glitter and looking like a neon dream in bright green; we're a big fan of her versatile style.
10) INSTAGRAM - BBY__YAN
Yana's festival style can only be described as a super groovy, chic and colourful. She's not afraid to experiment with different textures within her outfits and always creates trendy looks. We love her style and confidence with prints and colour! What's your festival style? Still feeling un-inspired? Check out our festi looks video! Whether you're a Grunge Girl, Moon Girl, Girly Girl or Rainbow Girl - The Gypsy Shrine has a look for you!